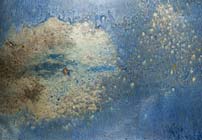 July 30 – September 25, 2011
An installation of modernist sculpture by ceramist and sculptor Ruth Duckworth. Duckworth was born Ruth Windmuller on April 10, 1919, in Hamburg, Germany. Because her father was Jewish, she was not allowed to study art under the Nazi regime, so she left her home country in 1936 to study in Britain, where she remained for her early career. In 1964, Duckworth moved to Chicago to teach at the University of Chicago. After 13 years on the faculty, she retired in 1977 to spend more time sculpting, moving her studio to a former pickle plant in Chicago's Lakeview neighborhood, where she worked until her death.
The exhibition's main piece, Amorphous #1, was shown at Navy Pier in 1997 and was donated to the Chicago Botanic Garden when Duckworth passed away on October 18, 2009, at age 90. Smaller pieces by Duckworth were also part of the exhibition.