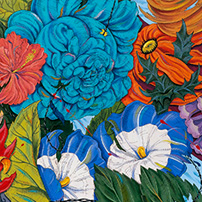 May 4 – August 12, 2018
Joutras Gallery, Regenstein Center
Penelope Gottlieb is a Santa Barbara-based painter who received her B.F.A. from Art Center College of Design in Pasadena and her M.F.A. from the University of California, Santa Barbara.
Gottlieb's paintings can be large, colorful, and full of motion that captures a sense of urgency. They can also be reflective and faint, with a quality of fading away. Her paintings are a series of botanical recounts of plants gone extinct and documentations of species that are endangered; or they show invasives that are jeopardizing balance in our natural environments. Against Forgetting consists of works from three series: Extinct Botanicals, Vanishing Series, and Invasive Series, each of which is presented different visually and shares an important status botanically.