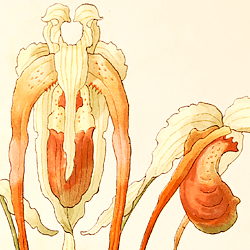 January 17 – April 12, 2020
Regenstein Center, Lenhardt Library
Free Library Talks:
Sunday, February 9 at 2 p.m.
Thursday, March 5 at 2 p.m.
The Illustrated Orchids In Radiant Color exhibition features brilliant and colorful orchid illustrations from the Lenhardt Library's Rare Book Collection. This exhibition is presented in collaboration with Brilliance: The Orchid Show.