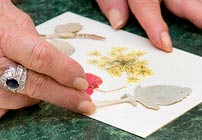 Come by the Buehler Enabling Garden to create a notecard.
July 3 – 31
Wednesday – Friday, 11 a.m. – 3 p.m.
Saturday & Sunday, 11 a.m. – 4 p.m.
Making notecards with flowers is one of the more popular Horticultural Therapy activities. This activity uses material from the garden, stimulates the senses, and can be adapted to various ability levels. Participants will make their card from a selection of harvested flowers. They will be assisted in arranging and pounding the flower pigment to make their notecard.