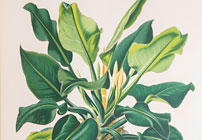 Friday, June 16, 2017 – Sunday, October 15, 2017
Regenstein Center, Lenhardt Library
Library Talks:
Tuesday, June 27, 2017
Sunday, July 16, 2017
Tuesday, August 22, 2017
Tuesday, September 12, 2017
2 p.m.
Brazil in the Garden: Flora Brasil presents tropical Brazilian flora and Brazilian biodiversity, and the significance of the specific volumes in the cases. The exhibition features four reproductions of Margaret Mee's Brazilian bromeliads, highlighting her work as a botanical artist who painted native plants of the Amazon rain forest. Margaret Mee was an early environmentalist for Brazil; she was an influence on Roberto Burle Marx.
Also featured are an original art piece by Roberto Burle Marx, an illustrated map of Brazil from 1772, and a large-sized chromolithograph of Philodendron Burle Marx (Philodendron cannaefolium).