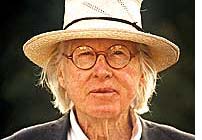 Renowned for fusing classic garden elements with a vital, modern sensibility, Dan Kiley ranks as one of the most important American landscape architects of the twentieth century. In a remarkable 60-year career, he produced public and private gardens, plazas, memorials and urban landscapes that define modern landscape architecture around the world.
Mentored by the environments of his youth — Boston's urban alleyways and New Hampshire's pristine forests — Mr. Kiley rejected Beaux-Arts formulas and the Romantic traditions of Frederick Law Olmsted. Working alongside modernist architects such as Louis Kahn, Eero Saarinen, and Edward Larrabee Barnes, he developed something new: a style of landscape architecture characterized by strong, geometric forms and fluid spaces.
From the Rockefeller Institute and the Oakland Museum to the Art Institute of Chicago and our own Garden, Mr. Kiley's designs reflect his unmatched vision for shaping nature into intense experiences of order, beauty and purity of line. The Garden's exhibit is composed of enormous photomurals that celebrate Mr. Kiley's most notable landscapes as we pay tribute to one of our greatest friends.