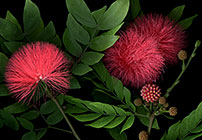 April 18 – September 25, 2016
Krehbiel Gallery
Note: From September 23 to 25, the exhibition will only be accessible with a ticket to the American Craft Exposition (ACE).
Laurie Tennent's collection of photographs capture the dramatic color and texture of her plant subjects. Her use of soft and directional light that rapidly fades to black, combined with her polychrome on aluminum printing process give these images a three-dimensional element not often seen in photography.