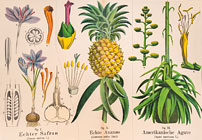 Friday, March 31, 2017 – Sunday, June 11, 2017
Regenstein Center, Lenhardt Library
Library Talk:
Sunday, April 2, 2017, 2 p.m.
Botanical wall charts, introduced in the late nineteenth century, were considered fundamental educational tools. The large-scale format allowed students to see botanical details from any seat in the classroom without a microscope. Produced in high-quality, brilliant colors, the charts have regained popularity as vintage poster art.