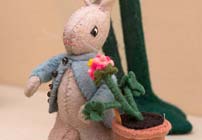 Friday, November 13 – Sunday, February 7, 2016
Regenstein Center, Lenhardt Library
Library Talk:
Sunday, December 6, 2015
2 p.m.
Beatrix Potter: Beloved Children's Author and Naturalist is an exhibition describing her early life and publishing career, and her love and preservation of the natural environment. It showcases several of Beatrix Potter's delightful Little Books, a copy of her lesser known work Fairy Caravan, ephemera items, and more. Marta McDowell, author of Beatrix Potter's Gardening Life will present a talk on Beatrix Potter and the exhibition on Sunday, December 6, at 2 p.m. in the Library.