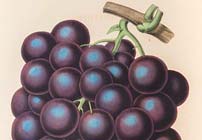 Friday, August 21 – Sunday, November 8, 2015
Regenstein Center, Lenhardt Library
Library Talk:
Sunday, September 27, 2015
2 p.m.
Ampelography: I Heard it Through the Grapevine is an exhibition of rare books about grapevines and grape-growing, primarily in 19th century America and Europe. Ampelography is the field of botany concerned with grapevine identification and classification. Traditionally, grapevines were studied by comparing vine leaf color and shape, and the grape themselves.
The exhibition is open from Friday, August 21 through Sunday, November 8 in the Lenhardt Library. Ed Valauskas, curator of rare books, will present a Library Talk about the exhibition on Sunday, September 27, at 2 p.m.