Sunday, October 27, 2019
2 – 3 p.m.
Meet at the McDonald Woods entrance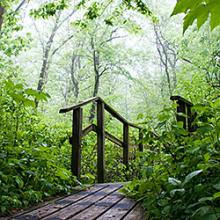 Experience the Garden and the fall season in a new way—join us for a free poetry walk with award-winning local poet Cin Salach. She will be sharing poems that celebrate all things forest throughout the walk, as well as creating participatory moments for the audience. We'll stop at the council ring for a group writing exercise inspired by our experience—materials and guidance provided. Meet at the entrance to McDonald Woods. Free; pre-registration is not required.