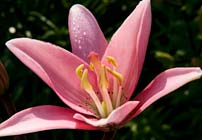 Saturday, July 1, 2017, noon – 4:30 p.m.
Sunday, July 2, 2017, 10 a.m. – 4:30 p.m.
The Wisconsin-Illinois Lily Society's annual show features floral arrangements in four artistic categories, and a beautiful, judged display of more than 100 lily blooms in different varieties. This show features true lilies, which are never dormant, but perennial plants arising from a bulb full of scales. A wide variety of true lilies will be on display. Visitors can get tips from experts on how to grow and propagate lilies.