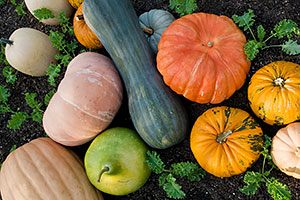 Sunday, November 13, 2016
9:30 – 11 a.m. or 1 – 2:30 p.m.
Squash comes in so many different sizes, colors and flavors—why not give them all a try? We will explore the story of the squash, dissect and explore different types, and bake and taste their seeds and flesh. Try something new in the classroom (butternut squash soup— vegan/gluten- & nut-free) and take a recipe home to enjoy for the holidays.