Arcomusical
Afro-Brazilian berimbau trio
Tuesday, August 31, 2021
10 – 11 a.m.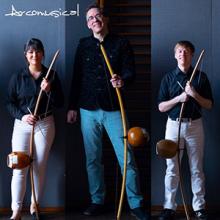 Projeto Arcomusical is a world music trio reimagining the Afro-Brazilian berimbau through unique and powerful chamber music. The ensemble formed in 2013 specifically to interpret MeiaMeia, the composition cycle co-composed by ensemble co-founders Gregory Beyer and Alexis C. Lamb. Arcomusical released MeiaMeia as its first album in 2016 on Innova Recordings. That same year, Arcomusical received a Chamber Music America Classical Commissioning Grant that produced "Roda," the kaleidoscopic, 20-minute, four-movement work by Elliot Cole. "Roda" is featured on Arcomusical's second album, Spinning in the Wheel, which is now available on National Sawdust Tracks.
The Garden View Café will be open for breakfast or lunch, and the Garden Grille will be open for lunch. This event is free and open to the public, regular parking fees apply. Chairs will be provided. There is no picnicking allowed at this event.
McGinley Pavilion
Rain or shine. The concert will be moved indoors if there is inclement weather.
Generously supported by