Joy Yu Hoffman
Chinese harp
Tuesday August 10, 2021
10 – 11 a.m.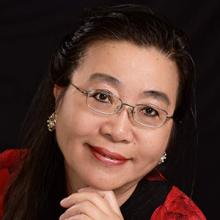 Upon receiving her master's degree in music from Northwestern University under Elizabeth Cifani and Edward Druzinsky, Joy wanted to create her own style of music on the kong hou—which is a double-strung Chinese harp. In 23 years, Joy has developed her own technique and style on the kong hou. She has released three CDs, numerous compositions, and a double-strung harp exercise book. She has taken part in harp conferences, festivals, and workshops with all her own compositions. She performed at the ninth World Harp Congress in Dublin, Ireland, in 2005. She not only plays Asian music on the kong hou, but also Celtic music, jazz, and blues as well. The music that Joy will play today are all her own arrangements.
The Garden View Café will be open for breakfast or lunch, and the Garden Grille will be open for lunch. This event is free and open to the public, regular parking fees apply. Chairs will be provided. There is no picnicking allowed at this event.
McGinley Pavilion
Rain or shine. The concert will be moved indoors if there is inclement weather.
Generously supported by