Silver Rose Duo
Flute & Guitar duo
Tuesday, August 3, 2021
10 – 11 a.m.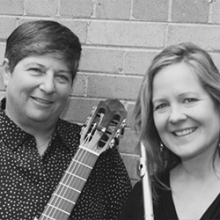 Award-winning concert flutist Kim Fleuchaus and international performing guitarist Julie Goldberg missed performing live music together during the pandemic, and are now joyfully sharing their program "Home and Away," featuring music inspired by travel, distant places, and the joy of returning home. Kim and Julie began their duo while pursuing degrees at Northwestern University. Each has gone on to earn critical acclaim as a soloist and chamber musician. Kim Fleuchaus maintains a diverse career as a performer on both the flute and the Egyptian nay. She has been heard on Chicago's WBEZ and WFMT radio, on commercial recordings and films, and at the Goodman Theatre. In addition to her chamber music work with Julie, she is a founding musician in the Sapphire Woodwind Quintet. Named guitarist of the year by Classical Guitar Alive, internationally broadcast radio program, Julie Goldberg was the first guitarist to receive a doctorate in music performance from Northwestern University, and holds degrees from the Chicago Musical College and College-Conservatory of Music at the University of Cincinnati. Julie has performed solo recitals in New York, Cincinnati, St. Louis, Michigan, and Washington, D.C., and has been featured on the internationally known Dame Myra Hess Concert Series. Dr. Goldberg is on the faculty of North Park University and VanderCook College of Music. She recently co-authored the book 100 Classical Guitar Lessons, which was published by Hal Leonard. In addition to her chamber music work with Kim, she is a founding musician in the Avanti Guitar Trio.
The Garden View Café will be open for breakfast or lunch, and the Garden Grille will be open for lunch. This event is free and open to the public, regular parking fees apply. Chairs will be provided. There is no picnicking allowed at this event.
McGinley Pavilion
Rain or shine. The concert will be moved indoors if there is inclement weather.
Generously supported by