Lapis Trio
Classical guitar, upright bass, and percussion
Tuesday, August 17, 2021
10 – 11 a.m.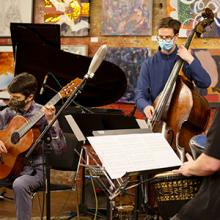 Lapis Trio is an acoustic group featuring the compositions of Chicago-based jazz guitarist Casey Nielsen. The music draws on his study of the classical guitar and modern jazz. Lapis Trio's unique instrumentation of classical guitar (Casey Nielsen) upright bass (Dan Thatcher) and percussion (Tim Mulvenna) provides a rich, dynamic, acoustic sound. Their new album, The Travelers, was released March 2019 on Shifting Paradigm Records. Through The Travelers, Nielsen imagines what he might write if he were to perform a composition every evening for the rest of his community upon their return from work. Every piece would need to immediately engage the audience, by being unique and entertaining. The music, like the returning community members, would need to travel in some sense and then come home. And so he traveled, wrote, performed, and returned home.
The Garden View Café will be open for breakfast or lunch, and the Garden Grille will be open for lunch. This event is free and open to the public, regular parking fees apply. Chairs will be provided. There is no picnicking allowed at this event.
McGinley Pavilion
Rain or shine. The concert will be moved indoors if there is inclement weather.
Generously supported by