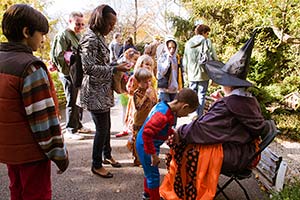 Saturday, October 29, and Sunday, October 30, 2016
10 a.m. to 5 p.m.
Adults: $6
Seniors: $5
Children (3–12 yrs): $4
Children (2 and under): Free
Members save $1
Families are invited to come in costume and trick-or-treat throughout the Model Railroad Garden to celebrate Halloween and the end of the railroad's season at Trains, Tricks & Treats.
The Model Railroad Garden will be decorated with spider webs, spiders, ghosts, goblins, and pumpkins, as well as seasonal plant materials. Visitors will see figurines of trick-or-treaters on Main Street, bats and crawly creatures, a graveyard, and more, all tucked among miniature scenes of America's best-loved landmarks and beautiful gardens planted to scale.
An array of small treats and treasures can be picked up throughout the Model Railroad Garden. Children will have the opportunity to pot up a Halloween plant.
Standard parking fees apply. Event is held weather permitting.