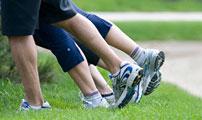 Sunday, June 23, 2013
8 a.m. – noon
Alsdorf Auditorium
Kick off your summer training with leading experts from NorthShore University HealthSystem and the Chicago Botanic Garden at our "Total Care for the Athlete at Heart" event. This free program is built just for you and other active individuals who expect the best when it comes to health and fitness. Whether you're living an active lifestyle to stay healthy or training for a competitive event—please join us for a fun and informative morning to learn more about:
Nutrition for athletes
Exercises and stretches that every athlete should know
Injury avoidance
Endurance heart health
Weather safety while working out
Be sure to wear comfortable clothing and athletic shoes. A light breakfast will be served from 8 – 9 a.m. during registration.
For more information or to register by phone please call (847) 570-5020.