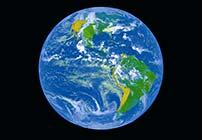 Saturday, June 1, 10:30 a.m. – noon
Alsdorf Auditorium
$12 nonmember; members receive 20% discount
What do an astronaut, a garden, a zoo, and a planetarium all have in common? Join us for an inspiring discussion about planet Earth and climate change. Panel line-up includes Michelle Larson, Ph.D., president and CEO of Adler Planetarium; Col.David C. Hilmers, USMC (Ret.), M.D., E.E., M.P.H., former NASA astronaut; Alejandro Grajal, Ph.D., senior vice president for conservation and education, and director of the Center for Conservation Leadership, Chicago Zoological Society; Pati Vitt, Ph.D., conservation scientist, Chicago Botanic Garden, and Susan and Roger Stone Curator, Dixon National Tallgrass Prairie Seed Bank; and Jennifer Schwarz, Ph.D., associate vice president of  education, Chicago Botanic Garden.