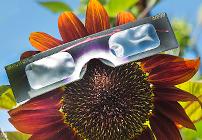 Monday, August 21, 2017
11 a.m. to 3 p.m.: Viewing event

Thank you!
Thank you so much for choosing the Chicago Botanic Garden for the amazing solar eclipse event on Monday. We recognize that people faced heavy traffic and long lines—especially with a corpse flower in full bloom on the same day. We very much appreciate your patience as we worked to safely welcome as many visitors as possible. We wish we could have accommodated everyone who showed up, but we quickly ran out of solar eclipse glasses and parking spaces. We are humbled and grateful for your interest in the wonders of the natural world.
Good afternoon, moon
During a solar eclipse, the moon blocks part or all of the sun. The sun will be completely blocked across a swath of the United States that includes Carbondale, Illinois, where the sun will disappear for 2 minutes and 38 seconds at about 1:20 p.m.
What to see in the Chicago area
The Chicago area isn't in the path of the total solar eclipse (which scientists call the "path of totality"), but it has been 92 years since we've been this close to the path. In the Chicago area, about 86 percent of the sun will disappear.
What's happening at the Garden's event
We are out of solar eclipse glasses. It's critical to use protective eyewear during a solar eclipse when any part of the sun is visible; sunglasses don't count. Blankets and folding chairs are permitted on the Esplanade, in the Krasberg Rose Garden, and other areas of the Garden for the duration of the event. Please, no picnics or telescopes.
Note that cameras and telescopes need special equipment in order to be used safely when looking at the eclipse. Please consult these safe viewing guidelines from the American Astronomical Society for more information on using cameras and telescopes safely.
Learn more about what will happen to the moon's shadow during the eclipse by walking along a huge scale model of the earth, moon, and sun. Family Drop-in Activities take place from 10 a.m. to 4 p.m. Staff and volunteers will be available to answer any questions.

Join NASA's citizen scientist project on the solar eclipse.
Solar Eclipse Timing:
11:54 a.m.  Eclipse starts (note: thick cloud cover would limit or potentially prevent viewing)
1:19 p.m.    Peak time of coverage (about 86 percent)
2:42 p.m.    Eclipse ends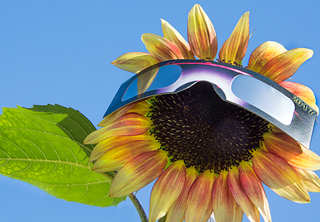 Family Drop-ins
Family Drop-ins will move to the Esplanade from 10 a.m. to 4 p.m. Activities will be eclipse-themed. A variety of pinhole projectors will be available to try out. In addition, kids can participate in acting out the eclipse to help them visualize it. They can see a scale model of moon, sun, and earth stretching across the Esplanade and can discover how other cultures have been inspired by nature's majesty.
The event is free and takes place rain or shine; regular parking fees apply,.

Save