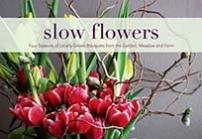 March 9
Saturday
10 - 11:30 a.m. 
Fairchild Room
$35 nonmember, Chicago Botanic Garden members receive a 20% discount
Author and garden expert Debra Prinzing has followed up her popular book The 50 Mile Bouquet with a sequel that plays on the revolutionary Slow Food movement. Slow Flowers: Four Seasons of Locally Grown Bouquets from the Garden, Meadow and Farm continues to celebrate and champion locally grown, organic floral-design materials, though this time with a DIY approach. Debra's challenge: to create 52 bouquets, one for each week of the year, strictly from local materials. And she succeeds beautifully, drawing on regional bounties of cut flowers, twigs, foliage, greenhouse plants, dried pods, and more. Hear about Debra's personal yearlong floral journey, discover her tips and tricks for locating and utilizing the best, most intriguing local material, and watch her fashion gorgeous bouquets before your eyes. 
The audience is invited to bring in a few samples from their own gardens for Debra to use in her designs or comment on. Let's see what the early spring landscape of Illinois has to offer! Debra will also be signing copies of her books.
This event is presented by the Garden Conservancy and the Chicago Botanic Garden, and co-sponsored by the Association of Specialty Cut Flower Growers.