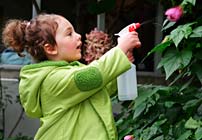 Wednesday & Friday, March 8 & 10, 2017
9 – 11 a.m.
Learning Campus, Classroom 10

Stop by for hands-on, nature-themed fun. Activities are geared toward children ages 2 to 5 with a caregiver. No registration is required. Parking is free from March 5 to 11, 2017, for those families with a ScreenBreak button, wristband, or card. This program is offered in collaboration with the Winnetka Alliance for Early Childhood's ScreenBreak. For information about ScreenBreak activities at other locations, visit theallianceforec.org.