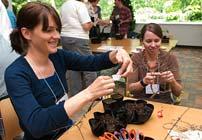 Saturday, June 28, 2014
8 a.m. – 4 p.m.
Fee: $110 (20 percent discount for Educator Members)
Grade level: PreK-12
CPDU credit: 7.5
Whether you're just getting started or working with an established school garden, this conference is for you. Presenters will provide tips on plant selection and care, with hands-on demonstrations of techniques for working with soil and plants while making connections to your curriculum. This year's conference will highlight ways to use gardening to support Common Core and Next Generation Science Standards across grade levels.