Callaloo, World fusion steel pan
Tuesday, July 30, 2019
6 – 8 p.m.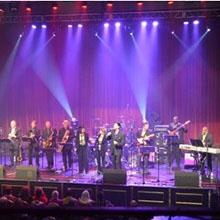 Callaloo is a world-fusion steel pan group performing original compositions in Chicago. Scott Johnson, Callaloo's composer/arranger, began writing music for Callaloo that was built on strong, sophisticated Latin/Caribbean rhythms, and recently began exploring and incorporating other styles that have proven to deliver a powerful musical experience. The percussion-based group employs an amalgam of instruments—steel pan, marimba, ethnic percussion, drum set, nylon string guitar, electric, and acoustic bass—while combining composed, orchestrated parts with improvisation. The percussionists switch instruments from song to song, adding to the visual element of their performance.
Please Note: You are encouraged to bring your own chairs as the Garden has a limited supply available each evening.