Incendio, World guitar
Tuesday, August 6, 2019
6 – 8 p.m.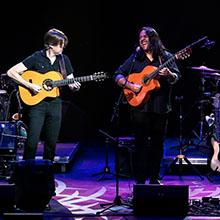 The acclaimed, Los Angeles-based group Incendio performs original world guitar compositions, featuring incredible guitar playing across a variety of genres: Latin, Middle Eastern, and Celtic grooves. Formed in 1999, the group has nine CDs and two DVDs available internationally, variously hitting the Billboard, CMJ, NAV, and Amazon.com charts. Averaging more than 150 shows a year since 2000, Incendio's live performance is an explosive improvisatory journey, garnering tremendous audience response in such diverse venues as the National Gallery of Art, Reston Town Center, Strawberry Music Festival in Yosemite, the Sundance Film Festival, National Gallery of Art in Washington, D.C., California World Festival, the Beishan World Music Festival in China, the national Levitt Pavilions and many more across the United States. The group will promote its new 2019 CD, Summoning the Muse, across the United States this summer. 
Please note: You are encouraged to bring your own chairs, as the Garden has a limited supply available each evening.