Nine Worlds Ensemble, eclectic chamber
Tuesday, August 13, 2019
6 – 8 p.m.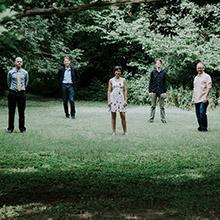 Nine Worlds Ensemble presents a unique approach to chamber music. With backgrounds in classical, jazz, pop, and rock, Nine Worlds bring a diverse approach to music performance. This approach to music results in the accessibility of pop music, the improvisation of jazz, the groove of world music, and the sensitivity and emotion of classical music. Nine Worlds features a unique instrumentation of violin, marimba, acoustic guitar, piano, upright bass, and percussion that delivers a wealth of musical colors to enjoy. Equally comfortable in the club as the concert hall, the mission of Nine Worlds is to bring their eclectic brand of chamber music to a wide variety of venues and listeners while breaking the mold of expectations in chamber music.
Please note: You are encouraged to bring your own chairs, as the Garden has a limited supply available each evening.