Nascent Jazz Project, modern and standard jazz
Tuesday, July 23, 2019
6 – 8 p.m.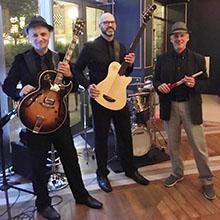 The Nascent Jazz Project (NJP) is a popular Chicago-based ensemble specializing in modern & standards jazz, Latin, and contemporary popular music. NJP features Gabriel Datcu on guitar, Marc Malitz on bass, and Ed Kriege on drums.
Please Note: You are encouraged to bring your own chairs as the Garden has a limited supply available each evening.