Music Institute of Chicago, Chamber Music
Tuesday, March 10, 2020
10 – 11 a.m.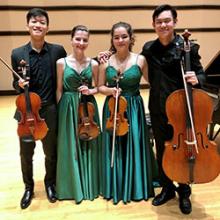 The Academy of the Music Institute of Chicago is a pre-college training program for gifted musicians. The Music Institute of Chicago is dedicated to transforming lives through music education. Founded in 1931, the Music Institute has grown to become one of the largest and most respected community music schools in the nation. Each year, the Music Institute's teachers reach thousands of students of all ages and levels of experience. Music Institute locations include Chicago, Evanston, Winnetka, Lincolnshire, Lake Forest, and Downers Grove.
The Dasani String Quartet is coached by Mathias Tacke, former violinist of the world-renowned and Grammy-nominated Vermeer Quartet. The Dasani String Quartet is comprised of Isabella Brown and Katya Moeller, violins, Zechary Mo, viola, and Brandon Cheng, cello. The word Dasani has Indian origins and means graceful and beautiful.