Common Knowledge, Harp and Guitar
Tuesday, February 25, 2020
10 – 11 a.m.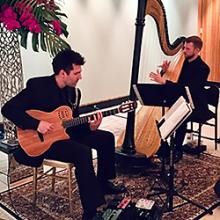 Common Knowledge is a Chicago-based harp and guitar duo. Since 2013, harpist Michael Maganuco and guitarist Alex Sokol have created unique and eclectic musical environments that seamlessly blend a variety of genres, including jazz, Brazilian, classical, and popular contemporary. They have performed live at venues across Chicago and the North Shore, including Chicago Botanic Garden, Museum of Broadcast Communications, Michigan Shores Club, Salvage One, and Venue SIX10.