Azurite Duo, Violin & Flute
Tuesday, February 11, 2020
10 – 11 a.m.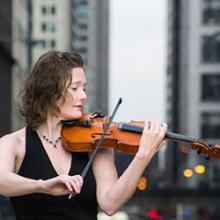 Elise Dalleska comes from a family of mathematicians and scientists. She started playing violin when she was 5, and received a bachelor's of music degree from Boston University and a master's of music degree in violin performance from Florida State University. She is a former member of the Civic Orchestra of Chicago, has performed throughout the Chicago area with the Milwaukee Ballet Orchestra.
Most recently, Dalleska was nominated for a 3Arts award for her performances in Chicago. She maintains a private teaching studio, is a faculty member at the DePaul University Community Music Division, and is a Citizen Musician, an initiative of Yo-Yo Ma and the Chicago Symphony.