David Chiriboga, Spanish guitar
Tuesday, March 3, 2020
10 – 11 a.m.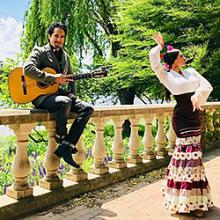 David Chiriboga, a musician of Ecuadorian descent, was born and raised in Chicago. Chiriboga's style is based in flamenco and Spanish classical guitar. You can see him perform all around the Chicago area as a soloist and with his full Flamenco Cuadro group. At this performance, Chiriboga will be accompanied by a flamenco dancer.