Saturday, May 2, and Sunday, May 3, 2020
10 a.m. – 3 p.m.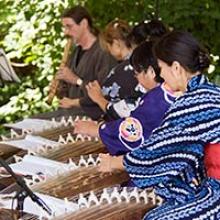 Nichols Hall
Learn about children's celebrations in Japan during this special weekend of activities. Listen to koto harp and shakuhachi flute music, and try your hand at the ancient Japanese art of suminagashi. Visitors are invited to participate in a tea tasting ceremony while supplies last.
Kids of all ages can construct a kimono-clad paper doll, create a miniature carp kite, design a hanging scroll and more, at family-friendly hands-on stations!
Schedule
10:30 a.m. Urasenke Chicago Association: Tea Ceremony
11 a.m. – noon Traditional Tea Tasting
11 a.m. – 12:30 p.m. and 1 p.m.– 2:30 p.m. Pam Martinez: Suminigashi 
1 p.m. Michael Gould: Shakuhachi Flute
2 p.m. Chicago Koto Group: Koto Harp