Sundays, June 2, 16; July 7, 21; August 4; September 1, 15, 2019
11 a.m. – 4 p.m.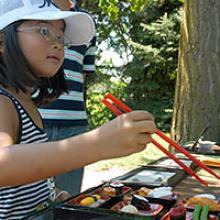 Drop by the Malott Japanese Garden for hands-on activities related to Japanese arts and culture. Kids of all ages can make projects to celebrate summer—make fish prints (gyotaku), create a paper fan (uchiwa), design a samurai helmet (kabuto), and more, at family-friendly, hands-on stations. The free activities vary each time and are subject to change.
Tentative schedule, subject to change:
June 2: Japanese Kites
June 16: Kendama (origami cup & ball)
July 7: Samurai Masks
July 21: Kabuto (samurai helmets)
August 4: Uchiwa (paper fans)
September 1: Kimono Paper Dolls
September 15: Gyotaku (fish prints)
Read books and play at Family Drop-in Activity sites and earn prizes. For details and to sign up, visit the Lenhardt Library in the Regenstein Center. Children of all ages are welcome to participate. Click here for more information.