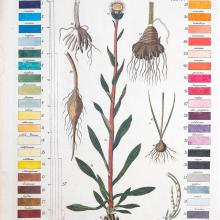 Exhibition Dates: April 20 – July 15, 2018
Regenstein Center, Lenhardt Library
Colors are an integral part of nature. Hues represent every aspect of life. How does one describe a color, or devise a language of color? Naturalists and artists developed charts and chromatic scales to form a frame of reference for colors. This exhibition highlights a variety of color charts and examples of colorful botanical art.