Sunday, February 25 at 2 p.m.
Tuesday, February 27 at 2 p.m.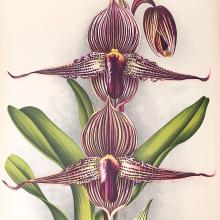 Exhibition dates: January 26 – April 15, 2018
Regenstein Center, Lenhardt Library
For more than 2,000 years, orchids have been intertwined with Asian culture, representing love, beauty and grace. They are used medicinally, for their fragrance, and collected to the point of extinction. Illustrations of the rare and endangered orchid, Paphiopedilum rothschidianum (Rchb. f.) Stein, are featured along with illustrations of other Asian orchids from the rare book collection. Presented in collaboration with the Orchid Show, several volumes from the Annals of the Royal Botanic Garden, Calcutta series, published in the late 19th century, will be on display.