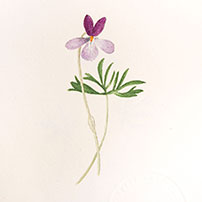 October 19, 2018 – January 13, 2019
Regenstein Center, Lenhardt Library
Free Library Talk:
Saturday, November 17 at 2 p.m.
Laura Ingalls Wilder was inspired by her natural surroundings. The prairie lands her family lived on and farmed provided her with a rich knowledge of plants and crops. This exhibition features Marta McDowell's book The World of Laura Ingalls Wilder and showcases original works from the rare book collection including prairie plant illustrations by naturalist Helen Sharp that are published in the book.