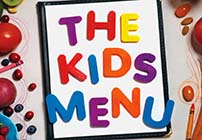 Sunday, May 21, 2017
2 – 4:30 p.m.
Cindy Pritzker Auditorium, Harold Washington Library Center, Chicago

Register Now

Watch The Kids Menu, a documentary on childhood obesity and healthy food choices, followed by a discussion and Q&A with Sam Kass, former White House chef and senior food analyst at NBC News. The documentary, from the team that made Fat, Sick and Nearly Dead, features Kass and the Chicago Botanic Garden's Windy City Harvest urban agriculture program. Preregistration is required for the event, co-presented by the Chicago Botanic Garden and the Chicago Public Library.