Jimmy Nick
Blues
Thursday, August 1, 2019
6 – 8 p.m.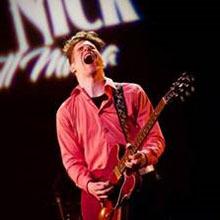 Jimmy Nick is an old-fashioned, guitar-slinging blues prodigy who spent his teenage years being schooled by legendary bluesmen in the famous Chicago clubs of Kingston Mines, Rosa's Lounge, and B.L.U.E.S. on Halsted. Today, Jimmy's mission is to expose the next generation to the blues. Driven by his Motown-tight band, Don't Tell Mama, Jimmy excites crowds with his electrifying guitar work, fresh harp, clever lyrics, and animated stage theatrics. The band's high-energy blues and rock-'n'-roll captivate audiences, and forge instant fans.
Please note: You are encouraged to bring your own chairs, as the Garden has a limited supply available each evening.