Rosie & the Rivets
1950s and 1960s
Thursday, June 6, 2019
6 – 8 p.m.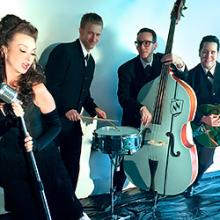 Rosie & the Rivets perform the best danceable music of the 1950s and early 1960s, along with some current hits with a retro twist. Not your typical 'oldies playing oldies' band, they perform a high energy show that's fun for all ages. You will hear early rock, rockabilly, girl group, surf, and soul, authentically and expertly performed by professional entertainers. Sticklers for detail, they put much research into their stage production; period correct clothes, along with vintage guitars, drums, and even microphones, ensue that you will be in for a truly retro-cool experience, both visually and musically.
Please Note: You are encouraged to bring your own chairs as the Garden has a limited supply available each evening.