The Wayouts
1960s
Thursday, August 29, 2019
6 – 8 p.m.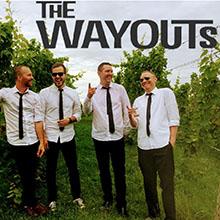 Veterans of the Chicago music scene, The Wayouts' members have diverse musical résumés, including signed, original indie rock projects, solo singer/songwriters, and high-profile cover bands. In late 2017, the four friends discovered a shared love of 1960s garage rock by artists like The Kinks and The Animals, and recognized an opportunity to offer something different in Chicago's live music scene. Their arrival was immediately welcomed by area music fans and promoters. Within months of their first show, they were invited to headline high-profile summer festivals and the Gallagher Way stage at Wrigley Field. Their combination of raw intensity, professional musicianship, and exuberant performance brings fresh life to classic songs, striking equal balance between nostalgia and innovation, appealing equally to hipsters, grandparents, and soccer moms.
Please note: You are encouraged to bring your own chairs, as the Garden has a limited supply available each evening.