Bopology Swing Machine
Swing, retro
Thursday, June 13, 2019
6 – 8 p.m.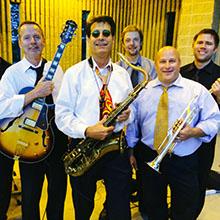 Bopology Swing Machine plays retro music from the age of color TV, and have done so since 1992. Their songs and musical show portray a post-war pride—an up-tempo, brassy, jump-energy style of the young American family. The instrumentation of the band matches the genres covered—upright bass, tenor saxophone, trumpet, piano, drums, and vocals. Favorite artists include Louie Prima, Miles Davis, Glenn Miller, Frank Sinatra, Bobby Darin, and songs from the 1996 movie "The Mask." It's the Bopology Swing Machine sifting through the American music of the past.
Please Note: You are encouraged to bring your own chairs as the Garden has a limited supply available each evening.