Spoken Four
1960s to today's top 40
Thursday, August 8, 2019
6 – 8 p.m.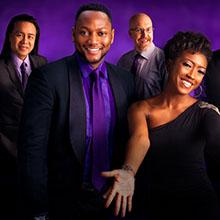 Spoken Four performs high-energy party covers spanning the '60s through today's Top 40. You will hear everything from the Jackson 5 to Maroon 5. The show is family oriented and designed for the short attention span, with tons of mashups and nonstop excitement. Throughout the years, Spoken Four has performed across the globe, in places including Barcelona, Istanbul, and Cabo San Lucas for corporate and private events. Spoken Four is one of the most professional and trusted bands on the circuit.
Please note: You are encouraged to bring your own chairs, as the Garden has a limited supply available each evening.