Saturday & Sunday,
September 23 – 24, 2017
11 a.m. – 4 p.m.
Regenstein Fruit & Vegetable Garden
Learn how to harvest, preserve, and store your homegrown produce or Farmers' Market bounty during Harvest Weekend. Join us at the Regenstein Fruit & Vegetable Garden for "how-to" demonstrations, shopping from local vendors, hands-on activities for kids and families, Garden Chef Series presentations, a cookbook swap, and more.
Learn from the experts, celebrate the bounty
Visiting apple expert Dan Bussey, orchard manager of Seed Savers Exchange in Decorah, Iowa, returns to the Garden to talk about heritage apples. Bussey will bring 20 varieties of apples to sample, all of which will be available for order next year through Seed Savers Exchange.
Explore the world of bees and honey harvesting with Fruit & Vegetable Garden beekeepers Ann Stevens and Bob Bavirsha, and put your taste buds to the test with a honey tasting. Can you pick out the essences of linden, buckwheat, and wildflower honeys?
Bring a gently used cookbook and take one home in the cookbook swap. Keep heritage recipes alive!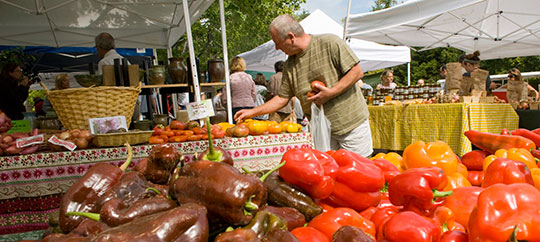 Meet Garden staff, volunteers, and outside experts to get tips on the following:
A world of winter squash
Seed saving
Preserving the harvest
Honey harvest
Growing garlic
Storing fruits and vegetables