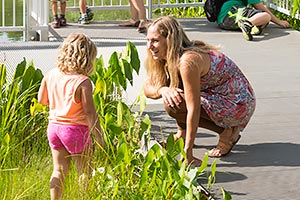 June 3 – August 27, 2017
Wednesdays, Saturdays & Sundays
10 a.m. – 4 p.m.
Kleinman Family Cove
Enjoy fun, hands-on activities for families and children. Explore the plants and animals in aquatic habitats and learn what kinds of animals depend on ponds and lakes. Splash in the water table, use scientific tools to examine macroinvertebrates, or find out how a tadpole turns into a frog. Activities will vary from week to week.
Read books and play at Family Drop-In Activity sites and earn prizes! For details and to sign up, visit the Lenhardt Library in the Regenstein Center. All ages are welcome to participate. Click here for more information.