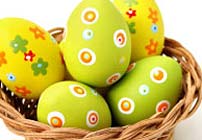 Sunday, April 16, 2017
Seatings at 9 a.m., 10 a.m., 11 a.m., noon, and 1 p.m.
Nichols Hall, Regenstein Center
Adults: $35/$40
Children (3-12 yrs): $25/$30
Children (2 and under): free
Members pay the lower price listed.
Price includes parking, taxes, and gratuity.
Celebrate spring and enjoy a festive Easter brunch at the Garden. Bring a basket and hop to the Krasberg Rose Garden after brunch, and join in the Easter egg hunt before taking a stroll to explore the vibrant colors and spring blooms.  
Family members of all ages will find the beautiful Greenhouses and outdoor garden spaces wonderful to explore before and after their brunch seating.

Family Portrait Sessions Available
For those attending the brunch, photographer Julie Kaplan named best photographer by Make It Better magazine for two consecutive years, is offering family portraits for an additional fee. The sitting charge is $75 for a ten-minute session, paid in advance. The fee will be applied to your purchase. Package prices start at $75. Sign up for a pre-reserved timeslot when purchasing. Online viewing gallery will be available one week after the session.

Photos will be taken in the English Walled Garden, or in the event of rain, in the Semitropical Greenhouse.