Carillonneur Jeremy Chesman
Monday, August 19, 2019, 7 – 8 p.m.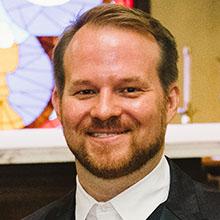 Jeremy Chesman, university carillonist and professor of music at Missouri State University, is a graduate of the University of Michigan, where he earned a bachelor of music degree, with honors in organ performance, and was the first person to earn a master of music degree in carillon performance. He then became a fellow of the Belgian American Educational Foundation, studying at the Royal Carillon School of Belgium and earning the final diploma with distinction. He earned the doctor of musical arts in organ performance from the University of Missouri-Kansas City. Dr. Chesman was appointed as the first university carillonist at Missouri State University in 2002. He has performed extensively throughout the United States, Canada, Australia, Belgium, the Netherlands, France, and Portugal.
Download a program for Jeremy's performance.
Preconcert carillon tours and demonstrations are from 5:30 to 6:30 p.m. (every 15 minutes), and concerts are from 7 to 8 p.m.