Carillonneur Carol Anne Taylor
Monday, July 2, 7 p.m.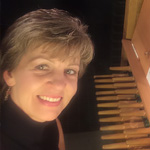 Carol Anne Taylor is director of children's choirs and carillonneur at the Cathedral Shrine of the Virgin of Guadalupe in Dallas, Texas. She is also assistant organist/choirmaster and director of children's choirs at St. Thomas Aquinas Catholic Church in Dallas. In addition to Carol Anne's work with children, she has served as associate director of music/accompanist for the Sunday Spanish Mass at St. Patrick Catholic Church, Dallas. While earning her master of music degree at the University of North Texas, she was invited by audition into the organ studio of Madame Marie-Madeleine Duruflé-Chevalier, visiting professor of organ (1992). Carol Anne serves on the board of directors for RSCM America and the Guild of Carillonneurs in North America. As recipient of the 2010 Ronald Barnes Memorial Scholarship, she arranged 15 hymns in a collection entitled The Spanish Liturgical Year for Carillon. An avid runner, Carol Anne has completed 39 marathons including the 2016 Boston, Chicago, and New York City marathons. Carol Anne resides in Dallas, Texas, with her husband, Sterling Procter.