Carillonneur Leslie Chan
Monday, July 29, 2019, 7 – 8 p.m.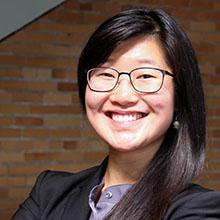 Leslie Chan began her carillon studies in 2014 with Jeff Davis at the University of California, Berkeley. She became a carillonneur member of the Guild of Carillonneurs in North America in 2018 and has performed across the United States, England, and Spain. In 2018, Chan was a featured recitalist at the Berkeley Carillon Festival and an inaugural student of the Luray Singing Tower Internship. At UC Berkeley, she taught carillon through the student-run Democratic Education at Cal program and facilitated the Berkeley Carillon Guild. She collaborated with Berkeley VR to create a 360° carillon experience, participated in a social streaming project,  and consulted for the Triforium art sculpture/"carillon" in Los Angeles. Chan holds bachelor's and master's degrees in chemical engineering from MIT and did her Ph.D. research on two-dimensional materials at UC Berkeley.
Download a program for Leslie Chan's performance.
Preconcert carillon tours and demonstrations are from 5:30 to 6:30 p.m. (every 15 minutes), and concerts are from 7 to 8 p.m.