Carillonneurs Michael Solotke and Tiffany Lin
Monday, July 22, 2019, 7 – 8 p.m.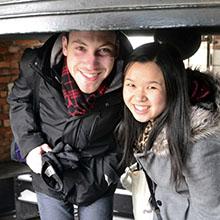 Tiffany Lin and Michael Solotke have been carillonneur members of the Guild of Carillonneurs in North America since 2013 and have enjoyed playing both duet and solo recitals across the United States. They first met at a Yale Symphony Orchestra rehearsal in 2009 during their freshman year (Lin on violin, Solotke on trombone).
Solotke graduated from Yale College in 2013 with a bachelor of science degree in molecular biophysics and biochemistry and is currently a medical student at Yale. He completed a one-month carillon residency in 2016 at Bok Tower Gardens in Lake Wales, Florida.
Lin lives in Philadelphia and is pursuing a master's degree in business administration at the Wharton School. Originally from Los Angeles, she graduated from Yale in 2013 with a bachelor of arts degree in economics and mathematics.
Download a program for Michael Solotke and Tiffany Lin's performance.
Preconcert carillon tours and demonstrations are from 5:30 to 6:30 p.m. (every 15 minutes), and concerts are from 7 to 8 p.m.