Carillonneur Hunter Chase
Monday, June 11, 7 p.m.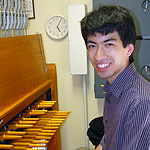 Hunter Chase studied the carillon as an undergraduate at the University of Chicago, first under Oliver McDonald and later with Jim Fackenthal. For three years, he served as president of the Guild of Student Carillonneurs at the University of Chicago, a student organization dedicated to instruction and promotion of the carillon. He continues to play regularly at the University of Chicago. In 2017, he won fifth prize in the Thomas Rees International Carillon Competition, in Springfield, Illinois. He holds bachelor's and master's degrees in mathematics and is currently a graduate student at the University of Illinois-Chicago studying model theory.